Electrophysiology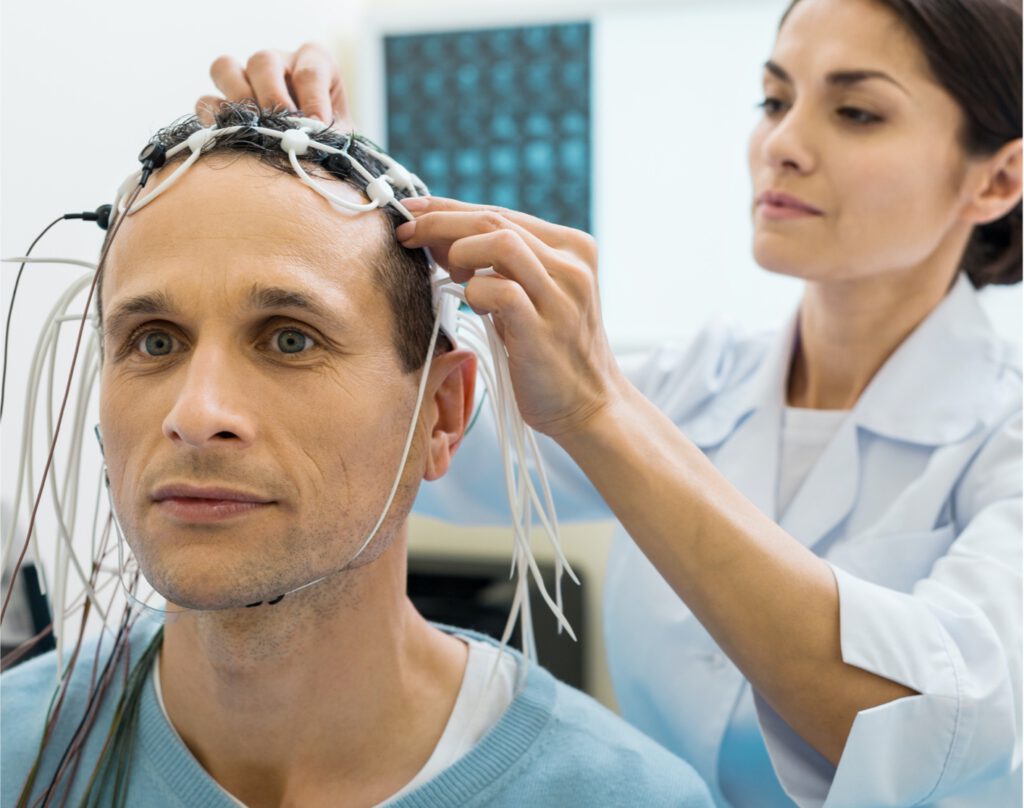 Electrophysiology (EEG/ERP)
Electrophysiology (EEG/ERP) hardware/software is provided to conduct EEG/ERP experiments at the clinical study site (any CRO/hospital in Europe and North America). On-site technical training of local staff (e.g. study nurses) is provided if needed by PI PharmaImage to conduct the electrophysiological (EEG/ERP) experiments. Quantitative (pharmacodynamic) EEG/ERP data analyses (e.g. power spectra, time-frequency analyses, source analyses) are conducted in Berlin. PI PharmaImage also developed a novel EEG monitoring system for safety assessment during/after dosing/dose escalation e.g. for early detection of seizure activity (e.g. with glutamatergic compounds) or toxic encephalopathy. While the PI PharmaImage EEG monitoring equipment can be located at any CRO/hospital worldwide, the clinical EEG assessments are remotely conducted in real-time in Berlin by a certified clinical neurophysiologist (pharmaco-EEG expert). Safety monitoring data can be simultaneously used for pharmacodynamic measurements (e.g. surrogate outcome measures).
For more information see: Imaging & Electrophysiology Biomarkers
Hardware
The Pharmaimage hardware below can be delivered to the clinical study site (e.g. CRO):
Electrophysiological
investigations:
4 complete EEG-recording BrainAmp DC 32-channel systems with 4 recording dongles, 4 laptops and 4 EasyCaps 32-channels
2 LED Photic-Light Stimulators with trigger box compatible to BrainAmp EEG recorders
Endpoints / software standard packages:
Electrophysiology endpoints:
EEG (resting state/event-related): power spectra, coherence, time-frequency (e.g. gamma, theta oscillations, signal-to-noise ratio) incl. source analysis
ERPs: P50, N100, P300, MMN incl. source analysis
Additionally requested parameters are possible
Software: BrainVision Analyzer 2, BESA, sLORETA
Electrophysiology
Among functional biomarkers, electrophysiology (EEG) is the work horse in CNS drug research. EEG is highly sensitive to drug effects and it is a classic "translational" biomarker because it allows a direct comparison between (small) animals and humans. An additional advantage is that test-retest reliability is high and that center measurement effects are negligible in multicenter settings. Most importantly, EEG is highly sensitive to detect drug effects.
We offer:
Standard EEG with 32-channel EEG systems from Brain Products (BrainAmp DC®). On request, amplifiers with up to 64-channel recordings can also be supplied.
Study structure and EEG data acquisition including QC / monitoring (in established multi-center settings).
Data analysis: clinical EEG evaluation, performance spectra, vigilance staging, spectral coherence, source localization (LORETA), event-related potentials (ERPs): P50, N100, MMN, P300 including time-frequency analyzes.
Pharmaco-EEG: established sub-anesthetic ketamine challenge, nicotine challenge.
Normal reference database: N> 4000. Patient reference database (schizophrenia, MCI, ADHD):> 800.
Special offer: Simultaneous EEG with functional magnetic resonance imaging (fMRI) (see functional magnetic resonance imaging)
EEG-based Safety Monitoring
Serious adverse events (SAEs) during clinical phase-I studies (first dosing, dose escalation) are rare but can be devastating as exemplified by the recent incident at the clinical research organization (CRO) Biotrial in France or another incident during a trial that was conducted by the CRO Parexel (UK) in 2006.
In order to prevent at least some SAEs affecting brain function, PI PharmaImage recently implemented a novel monitoring system. The system was tested in 2015 together with the CRO Hammersmith Medicines Research (HMR) in London (UK). To improve safety during clinical phase-I studies, the monitoring system was designed such that a highly sensitive assessment of SAEs affecting brain function such as epileptic seizures, diffuse encephalopathic (toxic) changes or strokes, which may lead to coma and death, is possible. When this kind of SAEs are detected early enough, further diagnostic and treatment intervention measures may prevent the worst case scenario. Accordingly, the PI PharmaImage monitoring system is particularly valuable when any drug, which affects brain function, is tested in clinical phase-I studies (first in human study) – most notably when dose escalation is conducted.
PI PharmaImage has established a real-time neurophysiological/video monitoring system using a secure web-based remote monitoring system for electroencephalographic (EEG) and video data. A trained neurophysiologist in Berlin is able to analyse signals in real-time while data acquisition elsewhere (e.g. in London) is ongoing. The system does not require particular expertise on-site at the CRU wherever it is located. PI PharmaImage is providing and setting up the equipment for the duration of the study and also provides on-site training of staff and standard-operating procedures (SOPs). Using the neurophysiological safety monitoring data, additional sophisticated pharmacodynamic analyses ("surrogate endpoint analyses") can also be conducted with the very same data set.